German Shepherd Puppies and German Shepherd Dogs rehomed across the UK. Help and Advice on All Aspects of Owning a GSD

---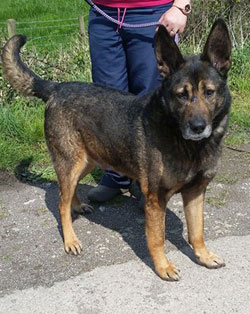 We Urgently Need Permanent Homes and Foster Homes
We have record numbers of dogs sitting in commercial boarding kennels waiting for their new homes to come along, many have been in there for months, some over a year and we have two dogs in their 3rd year in kennels. Not only does this drain our funds, but more importantly it is not fair on the dogs being kept in confinement for so long. They need homes.
What is wrong with these dogs? Nothing, they have just been discarded by humans through no fault of their own.
This lovely big boy is Boss who has never had a home of his own, and those scars tell a story of a very hard life. Boss has been in kennels for many months now yet he is a kind, gentle, loving soul who just wants to be loved. He does not like being in kennels, and he does not deserve this.
Rescue dogs are not damaged dogs; they have just been let down by humans. It should not matter what colour, size or age they are - that is not rescue. Dogs like Boss deserve a chance, not jail!! Can you free a dog from kennels and give him or her a kind loving home?
If you can help, please fill out an adoption/foster form. These are some of our kennel dwellers.
---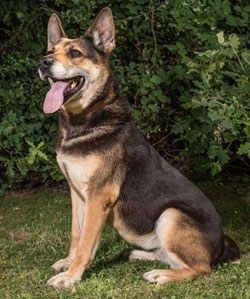 TOSCA In Kennels Since September 2015.
Tosca was originally rescued from a very uncertain future in Romania; she is a GSD/Cross black/tan 6 years old.
When she first arrived in England, she had very little confidence, and not used to being part of a family, with love and patience she has gradually gained confidence and been introduced to toys and has become more relaxed and playful. She loves human company and gets on well with other dogs and people she meets out on her walk. She can be a little protective, but with the right home, she will overcome this.
Tosca is now looking to going forward and getting a new home where she can continue to enjoy her freedom and new found confidence.
Tosca will thrive given the right home and give plenty of love in return.
---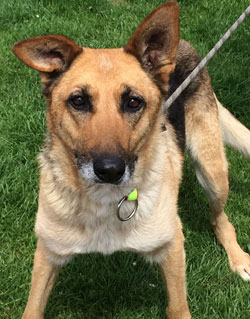 Hera, our lovely older lady of the week
Now in kennels over a year - so sad for this poor older girl.
This lovely gentle older lady is our Hera who is approx 10 years old and has had an awful life up to now.
We believe that she has never had a home of her own as we believe she may have always lived on the streets having litter after litter of pups, poor thing.
You can bet that she has not been treated well by humans and that most of her puppies never survived.
A really nice older girl who deserves some human kindness and love, something we doubt she has ever experienced before.
She is chipped but not spayed as the vet thought she was too old to undergo this type of surgery.
You can read more about Hera although we don't know too much and you can see more pictures of this sweet girl on Hera's page.
---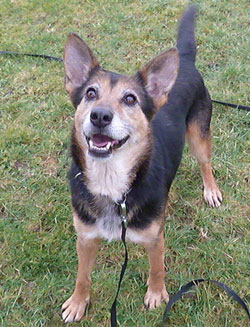 Yasmin in Kennels Over a Year.
his lovely little dog is Yasmin who has just spent her second Christmas in kennels.
She is another dog that has had a terrible life, never knowing love or having a proper home. Her passport claims she is 5 but we think she may be just a tad older than that - 7 ish! She is spayed.
Yasmin will be an excellent family pet, but we think a quieter adult only home would be better for her. She is good with other dogs and cats.
Yasmin has tested positive for leish but we will provide Allopurinol for as long as she needs it. She only takes two tablets a day. In 6 months she can be tested again and may be able to come off the medication. Please don't let this put you off adopting this lovely girl.
---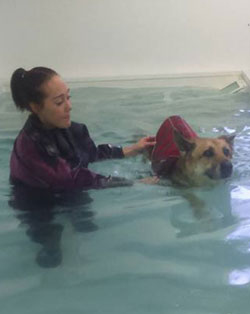 DM - Canine Degenerative Myelopathy
Mention DM to anyone who has ever owned a German Shepherd, and they will all know immediately what you are referring to.
DM (previously called CDRM) is a terrible, progressive condition which will ultimately lead to the euthanasia of the dog because it has become paralysed at the back end and can become doubly incontinent, although it's usually the bowels that they lose control of rather than the bladder.
The brain remains alert and front end remains normal so watching your poor dog trying to drag itself around on its front limbs is heartbreaking, which makes the decision to put to sleep even harder. Some owners do resort to doggy wheels, and many dogs do very well on these, although it takes great commitment from the owner.
Conventional medicine can offer you nothing to help your pet with DM. Some alternative ideas.
---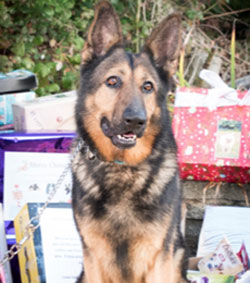 December 2016 Newsletter
Spare a thought for the many dogs who have no homes yet and will be spending Christmas in kennels. For many of these dogs, sadly it will be their second Christmas in kennels which are not good for any dog, especially for a large breed like a GSD. Most of these dogs in kennels will have little chance of being rehomed until well into the new year, so we will have some pretty hefty kennel bills, keeping them safe and warm until they find new homes next year.
As an organisation that relies totally on donations to fund the work we do, we are very grateful to everyone that has made a contribution towards our rescue, and I am especially grateful to all our wonderful volunteers who work so hard fundraising for the dogs. Even you online shoppers have contributed by shopping through Easyfundraising. Indeed last week we received a cheque for £721.51 bringing the total amount raised since we joined, to a whopping £11,478.75. So when the new year sales start or if you are booking a holiday, please don't forget to go shopping through Easyfundraising.
We are also absolutely delighted to announce that Support Adoption For Pets have informed us that they are awarding us a grant of £10,000 which is specifically to help towards the cost of our kennel bills. Whoop whoop. Read more.
---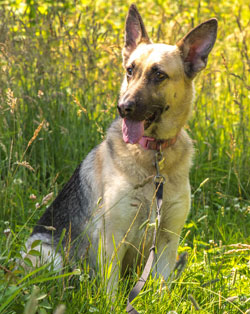 Why Vets Are Getting Away With Murder?
"The veterinary profession is broken, and it isn't about to change anytime soon. Our pets are being over-serviced, and we're getting fleeced. We pay for the unnecessary vaccinations, the overly-processed, synthetic prescription pet foods that contain ingredients from China, and we pay for drugs and chemicals that are damaging to the immune system.
After shelling out for these services, pet owners need to keep their wallets open because, sooner or later, the chronic disease caused by these products like allergies and cancer will start to kick in and require treatment. They threaten the quality and quantity of life for our companion animals – and many of these diseases are caused by the products vets tell us are safe and effective.
The sad fact is some common veterinary practices are harming our dogs. Vets today have too many drugs, vaccines and chemicals at their disposal and they're overly willing to dispense them. The worst part is that they hold no accountability for their actions. In short, they can and do ignore vaccine label recommendations or prescribe harmful or unnecessary drugs and we pet owners have no recourse." Why Are Vets Getting Away With Murder?
---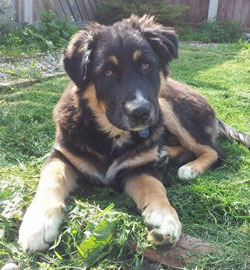 Campaign To Expose Vaccine Dangers
These two puppies, Bilbo Baggins and Lyra, were born in rescue after we took on a female GSD who unbeknown to us was expecting. Bilbo and Lyra have never been vaccinated but instead, have received 'nosodes' to build up their immunity.
Nosodes are a safe, cheap alternative to toxic vaccinations which are peddled by big pharma and veterinary practices and which are nothing more than revenue generators.
The first vaccine usually given as a very young puppy is probably the most dangerous.
Chris Day is probably the most well known homoeopathic vet - 'Sadly, the acute-onset problems and the chronic issues can be set up by even the very first vaccine event in a susceptible individual. We have even witnessed puppy and kitten deaths after the first dose.' Guidelines on Nosodes.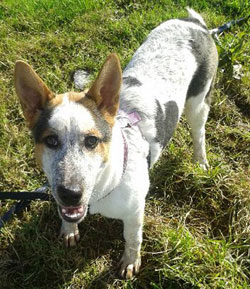 Chris Day the Alternative Vet: 'No manufacturer will guarantee the safety of vaccination. Quite apart, from dangerous and life-threatening anaphylactic reactions that can occur within hours of the injection, transient fevers and malaise and injection site lumps or abscesses, there can be chronic late-onset problems. As a referral centre dealing mainly with troublesome chronic disease, our own research suggests that over 80% of chronic illness that we see starts within three months of a vaccination event. Such problems include skin problems, allergy, atopy, autoimmune problems, heart murmur, meningitis, encephalitis, paralysis, nervousness, excitability, epilepsy and seizures, CDRM, cardiomyopathy, colitis, chronic diarrhoea, ear problems, 'virus' in horses, sarcoid, COPD and headshaking. It may even be that syringomyelia may be triggered by vaccination. Proving an association in any single case is not possible, but the overall statistics are frightening.'
---

GSDR alway has and always will operate a NO DESTRUCTION POLICY because we believe that all dogs deserve a good life. We will find the right home for all the dogs that come into our care no matter how long it takes. German Shepherd Dog Rescue is both a registered charity and company, which produces yearly accounts so that you know where your donated monies are spent.
German Shepherd Rescue
We are German Shepherd Dog Rescue the biggest and best charity in England and Wales helping to foster and rehome German Shepherd puppies and German Shepherd dogs (Alsatians).
German Shepherd Dog Rescue helps rehome German Shepherds across the UK. Can you help us raise funds so that we can rescue more unwanted German Shepherd Dogs?
If you are thinking of buying a dog as a family pet forget that puppies for sale advert, please read this article first.
Please do not contact the rescue specifically for puppies - buying a puppy. We are looking for loving homes for rescue dogs of all ages. We always have many German Shepherd dogs for rehoming. Can you offer to adopt a German Shepherd and give it a good home or maybe you could foster a German Shepherd until a new home can be found.
If you would like us to feature a German Shepherd dog that is looking for a new home, please contact us with you details. Please note that this is a genuine service for German Shepherd Rescue and not a listing for people wishing to sell their German Shepherd dog.
We do not have puppies for sale or dogs for sale but we do ask for a minimum donation which goes towards helping other needy dogs. Monies raised go towards kenneling and veterinary costs.
Volunteers are always welcome.
German Shepherd Dog Rescue is run by volunteers who are involved because of their love for the breed. Most have jobs and families and fit in rescue work when they can and at their own cost. Please be patient, and we will deal with your requests as soon as we can. Our rescue dogs are worth waiting for!
Please help us by making a donation so that we can help re home more unwanted German Shepherd dogs. Donations can be sent to Jayne Shenstone, German Shepherd Dog Rescue, Little Vauld, Marden Hereford HR1 3HA. We also accept Paypal payments - just click on the Paypal button below. Thank you.
---
---